1925 FORD MODEL T TRUCK Detailing Hotline 281-216-5833
This is an amazing example of american quality and workmanship.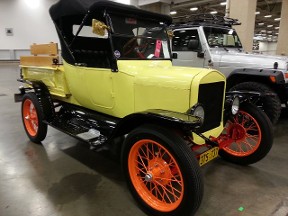 This restored truck didn't need much in the way of detailing. I did identify a few minor sanding scratches from the fresh paint that we polished out and then we just gave it a quick once over. For those clients that know us ...you are aware that a 'quick once over' for us can take several hours! My team and I will invest what it takes for us to realize the detailing goals for your vehicle. When a vehicle goes up for sale , it is not only an emotional decision but a situation where the owner has to decide and even 'gamble' , if you will , and take a risk if that piece of the investment will pay off. Time and time again ; contracting my team and I to freshen up your vehicle or treating your car to a full paint polish and leather deep clean will allow the sellers to reap big REWARD$ !!