AWARD - WINNING

Professional Detailing for your event at your location. We handled 42 PORSCHE's for the 2012 PORSCHE ROADSHOW at Angleton,Tx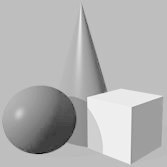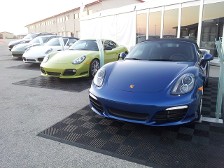 We traveled to Angleton,Tx to detail 52 of the World's Fastest Sedans ( 2011 CADILLAC CTS-V )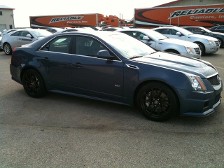 it was fun and we allowed CADILLAC to crush the competition! I WAS FEATURED ON THE JULY 2012 COVER OF DETAILER'S DIGEST CLICK THUMBNAIL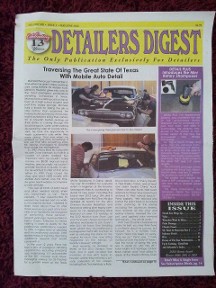 FOR PICS AND INFO ON THE 12 CLASSIC CARS MY GROUP OF 5 PROFESSIONAL DETAILERS RESTORED. We are the detailers for the 2012 PORSCHE PRIVATE EVENT We also detailed over 116+ vehicles from CHRYSLER,DODGE,FIAT,FORD,JEEP,LINCOLN,MERCURY,PORSCHE,SCION,VW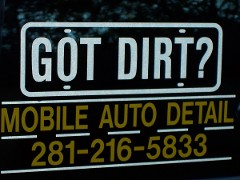 . We also detailed 20 cars for Nissan at the 2012 CHEVRON HOUSTON MARATHON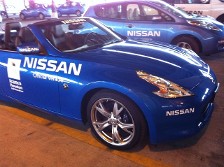 ....WE JUST RETURNED FROM DALLAS DETAILING 42 PORSCHES AT THE 2011 PORSCHE WORLD ROADSHOW. DETAILING 13 BMW's FOR THE 2012 OLYMPIC TRIALS

WHETHER YOU HAVE A NEW VEHICLE THAT IS GOING TO MARKET, OR YOUR COMPANY SELLS AFTERMARKET PRODUCTS THAT YOU WANT TO ADVERTISE TO THE MASSES. PUT YOUR COMPANY IN THE BEST POSITION TO OUTSHINE THE REST AND CALL 281-216-5833 OR EMAIL US AT INFO@HANDWAX.NET. WE HAVE PROVIDED ON-SITE DETAILING SERVICES FOR MERCEDES BENZ, CHEVROLET, FORD, LINCOLN, ETC. WE OBTAIN THE BEST RESULTS BECAUSE WE USE THE FINEST CAR CARE PRODUCTS WITH TIME PROVEN TECHNIQUES. MOBILE AUTO DETAIL EXHIBITS UNSURPASSED PROFESSIONALISM TO DISPLAY YOUR COMPANY'S BEST SIDE. DAY OR NITE OUR TECHNIQUES AND TOP-LEVEL PRODUCTS ALLOW YOU TO OUTSHINE THE COMPETITION!!!
We POLISHED 2 special cars for the 2010 Houston AUTORAMA I DETAILED 7 NISSANS for the 2011 Houston Marathon . From a WORLDWIDE field of applicants, we were selected to be part of the AIR FORCE ONE DETAILING TEAM!!

WE DETAILED AND MAINTAINED 110+ VEHICLES FOR THE 2011 HOUSTON AUTOSHOW.
MOBILE AUTO DETAILING IS THE PREMIER COMPANY IN TEXAS CHOSEN TO DETAIL THE 2007 LINCOLN NAVIGATOR AND 2007 FORD EXPEDITION XL. WE WERE TRAVELLED TO DALLAS , HOUSTON , AND SAN ANTONIO DETAILING FORD AND LINCOLN'S NEW VEHICLE BEFORE IT WAS MADE AVAILABLE TO THE PUBLIC. MOBILE AUTO DETAIL USES THE FINEST PRODUCTS AND HAVE ACQUIRED THE EXPERIENCE NECESSARY TO ACHIEVE SUPERIOR RESULTS ! CALL OR EMAIL US TO SHOWCASE YOUR AUTO TO THE WORLD! OUT OF STATE TRAVEL AVAILABLE.
The final stop of the MERCEDES RIDE AND DRIVE EVENT ended in Dallas,Texas. We were contracted to put MERCEDES BENZ' best face on display. We travelled to Dallas and delivered our brand of clean and shine! At the Dallas Contemporary during the State Fair of Texas our professional results were showcased before thousands. Our top-level products coupled with our time-proven techniques, consistently yields the best results in Texas. It is not by accident we are chosen again and again by the best companies who desire the finest results. Our results are our trademark. Our passion for excellence drives us to exceed your expectations.
THE MERCEDES BENZ RIDE AND DRIVE EVENT AT WAREHOUSE LIVE IN HOUSTON BOASTED 30 NEW 2008 C CLASS MERCEDES BENZ. THE EVENT HAD 1 MERCEDES BENZ INDOORS WHILE THE REMAINING 29 OF THE FLEET WAS OUTSIDE IN HOUSTON'S GREAT 90o + WEATHER. 2 MERCEDES WERE ON DISPLAY TO FLAUNT THE ABILITY TO EMAIL GOOGLE AND YAHOO MAPS DIRECTLY TO THE MERCEDES BENZ NAVIGATION SCREEN AND THE 12 SPEAKER, 450 WATT HARMAN KARDON SURROUND SOUND THEATRE. THE REMAINING 27 MERCEDES THAT WERE ABLE TO BE DRIVEN IN WAREHOUSE LIVE'S HUGE PARKING LOT FILLED WITH CONES. THE CONES WERE SET-UP IN TO DEMONSTRATE THE 2008 C CLASS' ABILITY TO HANDLE TWISTS AND TURNS, ACCELERATE FROM A STOP, AND BUMPY ROADS. THERE ALSO WAS A TRUE TEST DRIVE THAT SNAKED THROUGH HOUSTON'S CHALLENGING STREETS. 3 DAYS - FRIDAY,SATURDAY, AND SUNDAY. 2 WORDS - MERCEDES BENZ. 1 COMPANY - MOBILE AUTO DETAIL.
The CHEVROLET FREEDOM FEST contained 57 vehicles from CHEVROLET AVEO to HUMMER and everything in between for their display and test-drive. We shined the cars and allowed CHEVROLET to promote their best image to HOUSTON.
......................BELOW are the FERRARI club of HOUSTON's photos. The FERRARI CHALLENGE STRADALE and the tedious work we performed has been rewarded with many undisputed distinctions at local car shows.
.......................................................at BOTTOM is Richard's 1st place win at the CORVETTE EXPO in MARCH of 2009. Congratulations Richard, clear that mantle off for many more!!! Richard has a great car for our painstaking processes to be displayed --- over 23+ hours to get show ready!!!
AT HOUSTON'S OFF ROAD EXPO WE DETAILED 6 OFF ROAD AND PRE-RUNNER TRUCKS . THIS TASK WAS A CHALLENGE WE GLADLY ACCEPTED. ROCKSTAR ENERGY DRINKS AND DIRT ALLIANCE CHOSE MOBILE AUTO DETAIL TO FULLY PROMOTE THE SHEER MECHANICAL STRENGTH AND BEAUTY OF THEIR VEHICLES. ADVERTISING A 4-WHEEL-DRIVE, OFF-ROAD PRE RUNNER TRUCK POSES A SLIGHT CONTRADICTION...DETAILING AN OFF-ROAD VEHICLE??? WE BATTLED DIRT, MUD, AND GRIME AND GREATLY OVERCAME WITH AMAZING RESULTS!! CALL OR EMAIL US TO COMPLEMENT THE BEAUTY OF YOUR AUTO OR ATOMOTIVE PRODUCTS TO THE WORLD!
540+ ACURA's and HONDA's..... ...... ..... 60 hours ......... ....... ......... 1 company. YET AGAIN WE POSITION OURSELVES AS THE PREMIERE AUTO DETAILING COMPANY IN TEXAS !